Welcome to Hadleigh Computing, your local PC Laptop and Computer repair service for Hadleigh, Suffolk and the surrounding areas.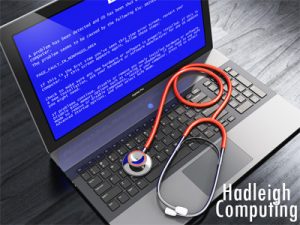 Based at The Suffolk Craft Shop at Kersey Mill Hadleigh, I am an independent computer repair, maintenance & installation engineer offering a home computer service to the local area.
Either bring your PC or laptop to me or I can come out to your home or work place and carry out any required computer work. From antivirus & printer installs on home PC's to server hardware replacement & network installations with in the work place.
With a fixed cost strategy you will always know how much the work is going to cost before it is carried out.
Just some of the computing services that I offer are as follows;
Desktop, Laptop & Windows Server repair, maintenance & installation.
Network installation & repair.
Hardware installation including NAS, printers, scanners etc.
PC upgrades & New system builds.
Web design & hosting.
Remote Support.
For more details, advice or prices please contact me on 01473 487 407 or email richard@hadleighcomputing.co.uk
Free advice – If you are just after some computer related advice please feel free to give me a ring as I am more than happy to answer any questions you may have.
Richard Foster